apaleo's value lies in the freedom to create. This is why Apps can become a very important part of your tech stack.
This guide will provide insights about how you can connect your first apps.
On the Account level - Apps - Connected Apps, you have the possibilities to add new applications. Through the button + Add a new app you can begin the connection between apaleo and an App.
The following window enables you to choose between a custom app and an app from the store. Custom apps are created and used by yourself, whereas apps from the app store are 3rd party companies.
We will follow the path Add app from the store: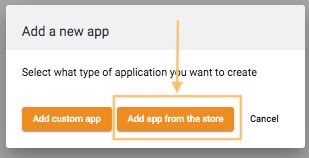 For the connection with booking.com, please follow this guide.
By clicking on Add app from the store, you will be directed towards the apaleo store.
Here you can select the App you would like to integrate to your apaleo platform.
Simply by selecting an App, you will be forwarded to the information they provide in the store.
Now you can select different setups at the bottom of the page an begin you connection.
If the app partner has a deep integration with apaleo, you will see a green Connect to apaleo button. This means, that you can create an account on the App homepage and connect it directly with apaleo. Others will have an orange button contact that will create a contact between you and the App Partner.
Depending on the App, there might be some setup work to be done additionally. While mostly Revenue Management and BI tools read data right away, channel managers demand setup.
Depending on the Channel Manager it is possible that rate plans will need to be set up and mapped to rate plans in apaleo. Here, you can already begin setting up your rate plans and map them to apaleo before they become publicly available. This way you can "activate" your new systems within minutes by making the new rates for apaleo available.
You can follow the latest integrations of new Apps to our Store here.