The SiteMinder application provides a connection to the SiteMinder channel manager, which includes real time availability and rates updates together with fully fledged reservation handling.
Connect
How to connect SiteMinder with Apaleo:
Go to the apaleo Store, SiteMinder Acquisition Platform App and click Connect App.
Contact SiteMinder and request connection with Apaleo
You receive an Excel sheet for rate plan mapping
Fill the Excel sheet using Apaleo rate plan and unit group codes
Send the Excel sheet back to SiteMinder
Wait for SiteMinder to confirm the setup
Send your SiteMinder Hotel Code to support@apaleo.com
Ensure that the applicable rate plans in Apaleo have the Channel "Channel Manager" enabled
Fill Excel sheet
This step is optional, you can always
map room rates
to apaleo on your own.
SiteMinder can help you to map room rates to apaleo. For that you will need to fill the Excel sheet and specify room, rate and inventory codes for each room rate in SiteMinder.
By convention room/rate codes in SiteMinder should match with rate plan/unit group codes in apaleo.
Room Code = apaleo Unit Group Code
Rate Code = apaleo Rate Plan Code
Inventory Code = apaleo Unit Group Code
Note on common mapping errors when you get the room, rate, and inventory codes from the URL:
Configure
Access
Only users who have the following roles have access to the configuration:
Account Admin
Property Admin
Revenue Manager
Rate plans
In Apaleo navigate to the applicable Hotel and open Apps > SiteMinder to start configuring rate plan and service mappings.
The right mapping is imperative for reservation processing.
Simply go through all rate plans and select the corresponding SiteMinder rate plan from the drop-down on the right side. You can always remove mapping by selecting 'No mapping' value.
There is only one price that can be transmitted to SiteMinder, therefore by setting 'Base occupancy' you can choose which price should be sent (e.g. base price for single person or for 2, 3, ... people).
If you already have Excel sheet filled with rate plan and room type codes, you can simply import them.
We will automatically fill the form for you, no need to do it manually.
Open Excel sheet and select both "Rate Code" and "Inventory Code" columns
Right mouse click and do "Copy"
Click on "Import" and paste the codes
Services
In case you sell some extra services, you can configure mappings for them as well.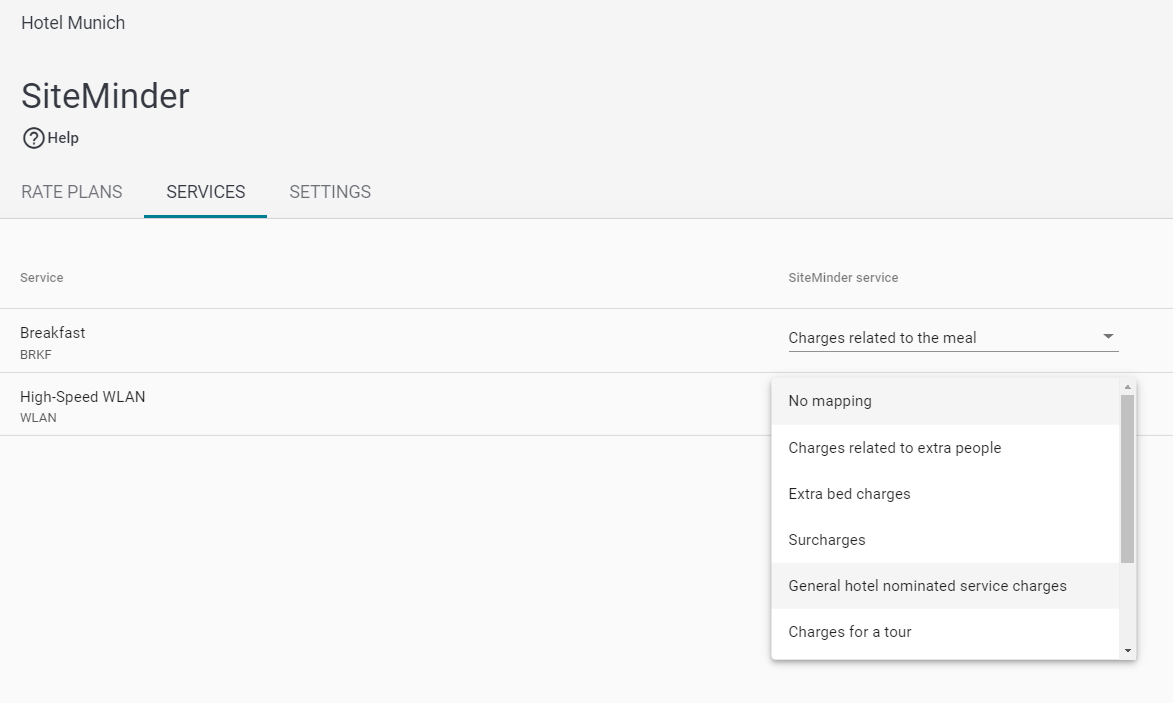 Only rate plans and services that have 'Channel manager' channel configured will be available for the mapping.
When mapping between apaleo and SiteMinder get's broken (e.g. rate plan doesn't have 'Channel manager' channel anymore), you will see the warning that will tell you about it. To fix it, either remove the mapping or update the rate plan.
Please keep rate plan mapping always up to date. If you decide to remove a specific rate plan from SiteMinder, remove rate plan mapping as well. It is advised to first remove the mapping and then remove rate plans in SiteMinder.
Activate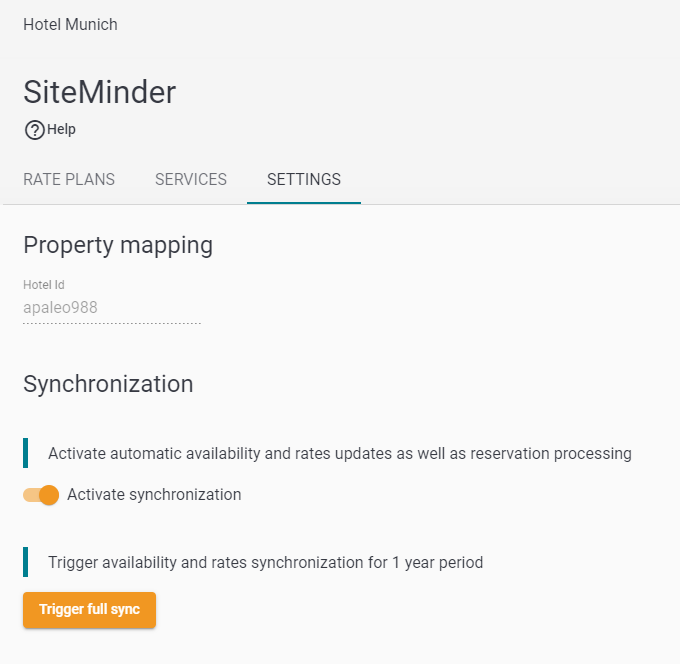 When you are done with the mapping and you got confirmation from SiteMinder, you can finally activate the connection.
By activating Synchronization, apaleo will start sending real time availability and rate updates, process new bookings as well as modifications and cancellations. The rate plan needs to be bookable for data to be sent.
apaleo will always keep availability and rates in sync with SiteMinder for max. 1 year ahead, but you can anytime trigger full sync for 1 year period in advance.