This guide gives an introduction to the low/no-code app make.com and how to connect it to your Apaleo account.
What is Make.com for?
Make.com is the leading visual platform for anyone to design, build, and automate anything - from tasks and workflows to apps and systems - without the need for coding skills. Make.com enables individuals, teams, and enterprises across all verticals to create powerful custom solutions that scale their businesses faster than ever.
What data will be shared between Make.com and Apaleo?
You have access to all data of your account via the make.com integration, but depending on your use of make.com and on the Apaleo modules that will be used.
How do I connect Make.com to Apaleo?
There are two preconditions to connect make.com to Apaleo:
1. Register to a make.com account (or be signed in to your existing one)
2. Register to an Apaleo account (or be signed in to your existing one)
After that you can start using make.com with Apaleo by following these steps:


Sign in to you Apaleo account
Add a new custom app inside your Apaleo account
Navigate on the account level to Apps > Connected Apps > + Add a new app > Add custom app



You can choose any code and name, we recommend:
1. Client code: Make_integration
2. Client name: Make integration

Personally identifiable information should be Retrieve and the
1. Secrets description: production integration
2. Scopes : select Core API
3. Click Save
Don't close the next window!


Now you will see a new screen with Client secret created.
Copy and save the client id and client secret. You will need them in the next steps. A screenshot can work as well. Leave the window open for now, after make is connected, you can close it.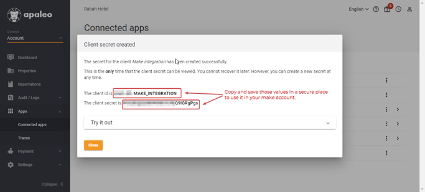 Sign-in to your make.com account

Create a new scenario (read more here)



Add Apaleo app as a new module: search for Apaleo at the bottom of the list.



Select one of the Apaleo actions: search properties is recommended.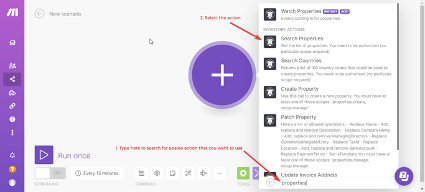 Add a new connection to Apaleo by clicking on Add



Insert the
1. Client ID and
2. Client Secret from the last step in Apaleo.
3. Click save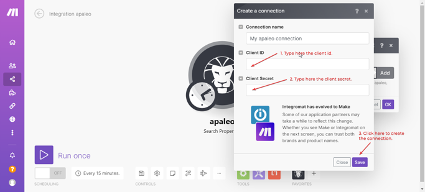 Congrats! You have successfully connected make.com to your Apaleo account. Now you can utilize the power of automation and the freedom to create!
How much does Make.com cost?
Make.com.com has five plan levels - free, core, pro, teams and enterprise. Each plan has a starting price and then tiered pricing based on how many tasks you need.
Here you can read more information about make.com pricing.
How do I disconnect Make.com?
You can disconnect the app in Apaleo from the Connected Apps page. You can also close your Make.com account at any point by contacting the Make.com team.