Once your merchant has been approved and configured in your property/s in Apaleo, there are 8 steps to complete.


1) Payment Automation Setup in Apaleo
Go to apaleo, select a property, open the Settings through Settings - Payments - Payments Automations.
Here you can setup your payment automation rules.


2) Get Access to your Merchant Account in Adyen
Once you receive the activation email for your Adyen user account, go to the link and make sure you have downloaded an "Authenticator App" on your device. Examples: Google Authenticator, Microsoft Authenticator, Authy, Duo Mobile etc.
Scan the QR code which shows up after you insert the account, username and password, using the authenticator app installed on your device.
The authenticator app on your device generates a code.
Enter the code from the authenticator app.
You will need the app everytime you will have to log in into Adyen.
3) Activate Notifications for Transaction Updates
In order to be notified immediately of chargeback claims of guests, make sure to activate the chargeback notifications. Just follow this simple guide and activate the notifications for your user:
Log-in with your Adyen user.
Move your mouse to the bell on the upper right side and click

System messages.
On the next screen, click on Manage subscriptions:
Then activate the chargeback notifications by turning on the notifications and click on save:
4) Customize Your Payment Link
Login to Adyen, select your COM merchant/s, go to Pay by Link -> Themes.
Afterwards click on "create new Theme".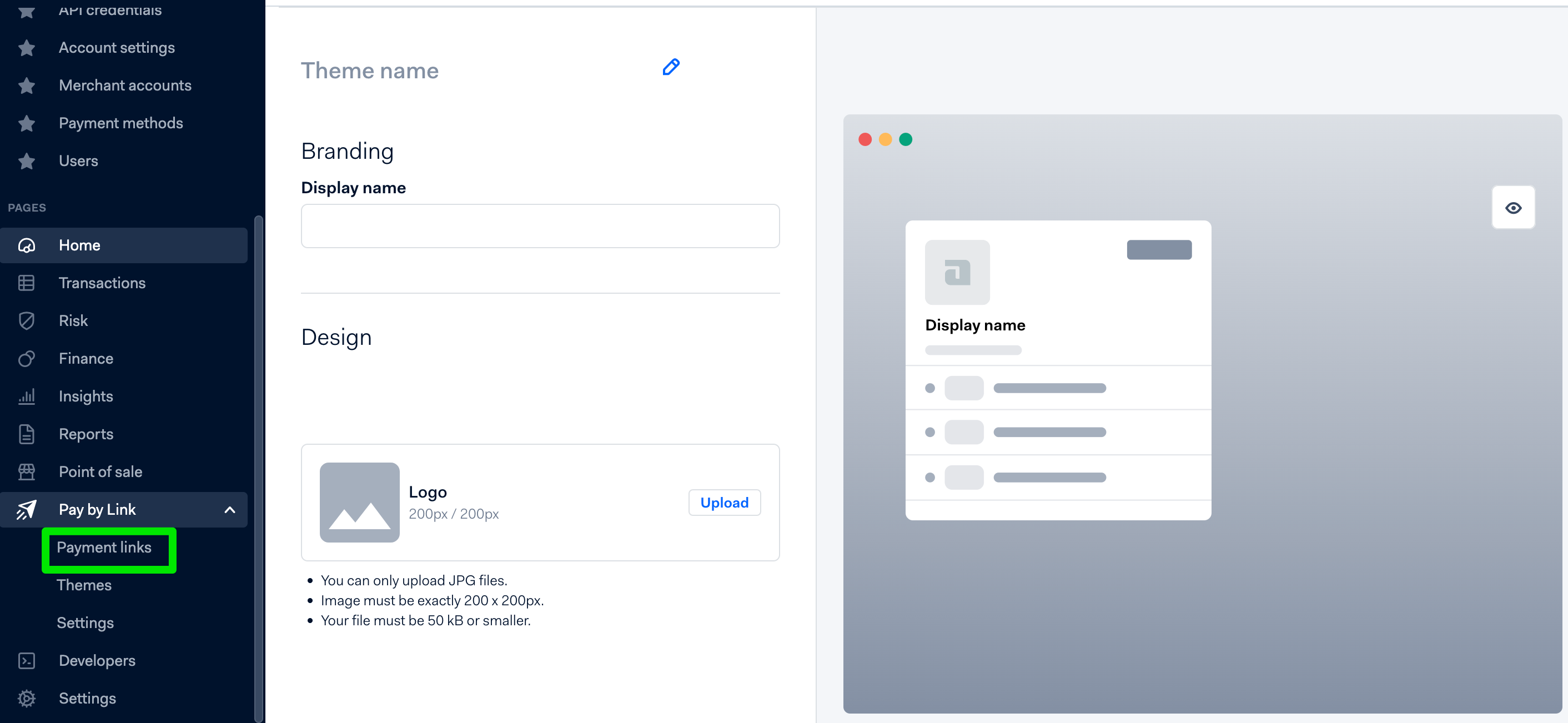 Under "Display name" insert the name of your hotel.

Under "Brand logo" insert your hotel logo. Use this link ot format your logo in order to be uploaded https://www.countingcharacters.com/image-resizer-online#sectionbg

Under "Background image" select a picture that you want to use as background (optional) or if you don't want to use a picture you can select a "background color" and use this link to help you identify the right color code https://www.google.com/search?q=color+picker

Under "Terms and conditions URL" insert the Terms ad Conditions link from your website.

Click the blue button save to save the new setup.

Beware that this operation has to be done for each of your COM merchants!

Beware that if the payment link's landing page is not customized, the "Display name" which will be shown will be "apaleo GmbH" , which might confuse your guests.

For more info on how to use the Payment link, please refer to this guide: https://apaleo.zendesk.com/hc/en-us/articles/360013776879-Payment-Links
5) Set up Refund Reserve
The Refund Reserve is a reserve that lies in your merchant and that is used to process refunds in the event that your payments in process are not sufficient to cover the refund amount or in the event that your processed payments have been already paid out to your bank account.

Hence the Refund Reserve exists to ensure that you can process refunds without having to depend on incoming payments for future reservations and to avoid the disruption of the operations.

For this reason we highly recommend you to set up the refund reserve. The refund reserve can be stopped at any time, so that the amount that was allocated will be paid out back to you.

In order to set up your refund reserve, please follow these steps:
Go to Adyen,

Finance > Balances overview.
Select

Control your balances

in the upper-right corner.
Select

Change

under Threshold and insert the amount that you want to allocate to the Reserve.
As soon as you set up an amount, your future processed payments will be allocated to this reserve until it will be filled up to the amount that you set.
6) Manage Payment Methods
Review your active payment methods in the Adyen Customer Area:
Go to Settings > Payment methods.
If you would like additional payment methods, please open a ticket with Apaleo.
7) Read the MPL Guide
Read the following guide carefully apaleo Pay - Merchant Potential Liability (MPL) to understand how Adyen calculates the individual risk of your merchant/s.
8) Learn about PSD2
PSD2 (Payment Services Directive n.2.) requires the implementation of the strong customer authentication (SCA, also known as two-factor authentication) for e-commerce payment transactions via the deployment of the technology called 3DSecure. Something very important for hotels to know about 3DSecure is the liability shift. When the 3DSecure step is requested to your guests when processing payments, then you will not be liable for chargebacks. Read the full article and tell us if you want to force this step for your e-commerce transactions.