Once in a while your inventory breaks or needs to get a refurbishment. Sometimes those maintenances are planned in advance and sometimes they just happen. The maintenance slots can be managed in the room rack. Once you are on the Room Rack window you +Add a new Maintenance Slot as schon below: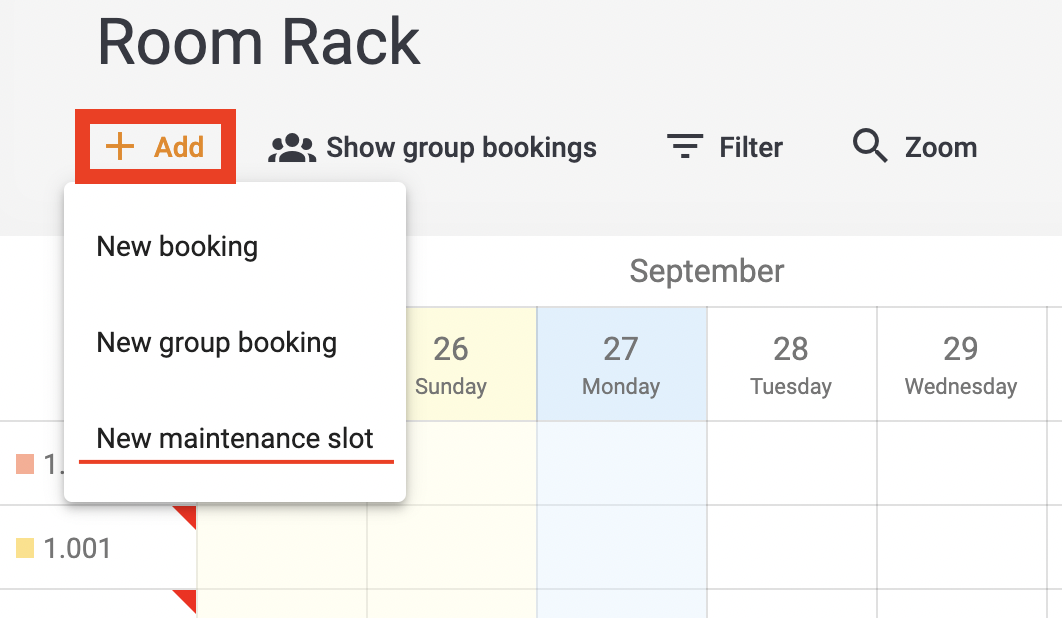 apaleo supports the following 3 industry standard maintenance types:
Out Of Service (OOS) does not take this unit out of the availability, but it marks it as a unit that you would only assign to a reservation if there is no other room free that otherwise meets the preferences of the guest. A unit marked as Out Of Service is fully functional and has only minor cosmetic defects.
Out Of Order (OOO) should be used when a unit is not functional and cannot be used by a guest. This unit will be deducted from availability on all channels.
Out Of Inventory (OOI) reflects a long lasting maintenance planned way in advance like the renovation of a whole floor. This floor will be under construction for weeks or even months and so those rooms are deducted from the available inventory to sell. The difference to the Out Of Order is that units set toOut Of Inventory are also reducing your total house count, so the occupancy will not be calculated based on your total physical unit count, but based on the reduced one, which has influence on key metrics and also on price recommendations of revenue management solutions.
If you need to delete a maintenance slot, click on it to edit then change the end date to today's date. The same procedure applies to changing the type of a maintenance slot - for example from Out of Service to Out of Order. Edit the existing one to end today and add a new slot with the desired type of maintenance.